Escape from Tarkov: The complete guide to playing solo in offline mode
Escape From Tarkov
Date: Apr/29/21 14:45:47
Views: 109
‍Escape from Tarkov is notoriously brutal. Getting started in Tarkov is challenging, with a steep learning curve that will drive you to insanity unless you are adequately prepared for what you're letting yourself in for. Escape From Tarkov's offline mode is a great way to stay away from the PVP (PVP GET STARTER GUIDE)as a new player. If you feel overwhelmed and run into experienced players who constantly kill you, playing offline can help you get accustomed to the game's mechanics before you are ready to take on veterans. So this article will detail The complete guide to play solo in offline mode in Escape from Tarkov.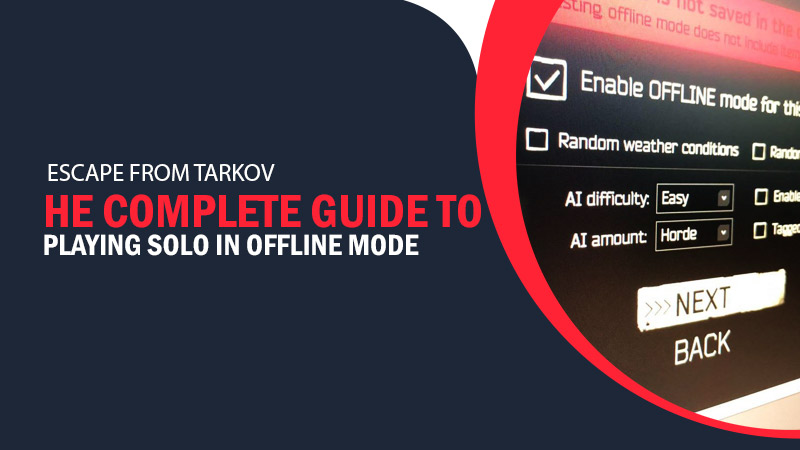 Escape From Tarkov's offline mode is available as a means of playing against bots only, and if you die, you do not lose your gear. The downside to playing Escape From Tarkov's offline mode is that you will not get any experience, loot, item, or EFT roubles, so you should play it only to get accustomed to the game's mechanics. To help you overcome your Escape from Tarkov "gear fear" and get yourself firmly in the black, here is a guide to making sure you keep your bank account healthy. There is no tutorial, the game doesn't tell you how or where to escape from said Tarkov, and that bush will one-tap you — causing you to lose all that expensive gear you're wearing and leave you muttering about cheaters. Fear not. This guide will get you on the fast track to success with some helpful beginner tips. (The latest guide to play solo in Escape from Tarkov).
1. Escape from Tarkov: Offline Mode Activate Guide
Start the Game
Click on Escape From Tarkov in the Main Menu
Select Any PMC character you need to play
In the Map Menu, click on any location you want to stop by and click Next
Inside the subsequent menu click on "Prepare to Escape" and pick out the Allow Offline Mode for this raid selection
Click on allow PVE
Click on Ready
Setting up your game this way will only spawn PVE enemies inside your lobby and you'll not have to be concerned about other players loading in and killing you.
2. Escape From Tarkov Offline Mode Settings Guide
As outlined by Battlestate Games, the Escape From Tarkov offline mode exists to help players test the game through the closed beta. You could enter raids with or without scavs but you may not obtain any loot or progression.
It is possible to make use of the offline mode to explore and test weapons. It really is also an excellent method to invest time if the game's servers are unavailable. The developers plan on adding a number of activities that will be played offline.
Escape From Tarkov's offline mode also allows you to spawn in random climates and at random instances, in the event, you want to allow the features. Some of the other settings you are able to change involved.
AI difficulty
AI amount
Bosses
Tagged and Cursed gameplay
Scav Wars
The tagged and cursed option is ideal left unchecked unless you're hunting for a hardcore challenge. As quickly as you tag an AI enemy, other enemies within the vicinity will rush at you creating fights very challenging. Scav wars allow AI vs AI fights. You may load into the game together with the gear you might have but you are going to not shed any gear in case you die in offline mode. You are going to also not be capable of earn any gear in Escape From Tarkov's offline mode.
Related: Related: Escape from Tarkov Tips.